Cleaning, Repair And Protection
Unicare Existing Sealant Removal
Chemically removes the existing sealant application that discoloured or damaging surfaces. Chemically removes old existing sealant application that discoloured and/or over applied.
Unicare Oil and Dirt Remover
The most effective product available for removing oil spots from paving stones and concrete, Unicare Cleaner #1 dissolves, dislodges, and encapsulates oil to ensure thorough cleaning without leaving any oil film after rising.
Unicare Polymetric Joining Sand
A special mix of grade sand And binder specifically formulated for achieving optimum lock-ups Of pavers, flagstone: It bonds, seals and prevents Joint/sands washouts, erosions, weed and ants. Unicare it is environmentally friendly and will not hurt plant or animal life. It also will not damage stucco, brick, aluminum or other building products.
Unicare Paint, Tar and Rubber Remover
Thoroughly dissolves paint, tar or bitumen, rubber and chewing gum from paving stones, concrete and masonry.
Unicare Efflorescence Remover
Specially formulated to dissolve efflorescence (whitish salt deposit) and remove ground-in dirt on paving stones and concrete, without discolouring or damaging surfaces. It cleans evenly, and enables the sealant to better penetrate the material to be treated.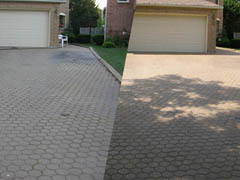 Garage Epoxy Floor Sealing
It minimize dust and dirt making your garage floor easier to clean. We do apply two –codes of apoxy sealing, it is a permanent product with excellent resistance to oil, chemical and stains. This sealant does not trap dampness and resists peeling.
Unicare Solvent Based Paver Sealant
A solvent based Thermoplastic acrylic protective sealant for pavers stones: it is the best protection you can buy for your pavers. It enhances the original colour of the pavers, and gives them a wet look. Both types of sealers penetrate the concrete deeply for maximum Effectiveness and durability. Sealers reduce oil and dirt penetration. Unicare sealers will not peel, discolour, or make the pavement slippery. They resist calcium and salt and wear evenly.
Unicare Water Based Paver Sealant
A thermoplastic acrylic emulsion made for paving stones. Whitish in colour while in liquid state, it becomes clear when is dry. Since it contains very little solvent, it does not emit unpleasant odors, and is therefore ideal for interior applications. It gives a satin finish which practically does not effect the original colour of the Concrete surface.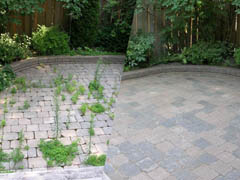 Unilock Joint Sand Stabilizer Sealer
A one–step paver and joint sand stabilizer. It is designed to protect and enhance the colour of pavers, while bonding joint sand particles together, thereby reducing erosion, weeds and insects. It is environment friendly, and will not damage stucco, brick, aluminum or other building products.