Bowmanville Interlocking Paver Contractor

West Hill Landscaping is a specialist in Unilock interlocking paving stones for driveways, walkways patios and more in Bowmanville.
We believe when it comes to paving your driveway or patio, you want to get the job done right and have your paving turn out the way you expected or better.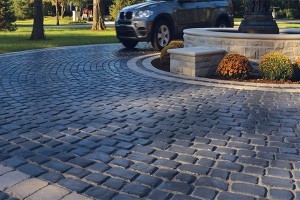 Our Bowmanville interlocking pavers not only can pave your driveway, but they can also help with the entire paving design process. There are many different driveway paving designs to choose from and it will vary on the size of your driveway and also your budget. Some of the other factors o price when it comes to driveway paving are the types of interlocking stones you want to use. When you're ready to start your driveway paving just give us a call and we will have one of our Bowmanville driveway pavers out to your resident to provide your with a free no obligation quote.
The quote process will involve our Bowmanville pavers giving you an idea on the design if you don't already have a design in mind and they will bring along some stone examples for you to view and they will also have books for your to view even more stone examples.
Our Bowmanville paver will provide you with some different pricing options based on a few different interlocking stone options and give you an estimated time-frame on completing you interlocking paving project.
WestHill Landscaping, Your Bowmanville Interlocking Paving stones Experts!
905-922-7664
bowmanville@westhilllandscaping.com