WE CAN REMOVE PAINT, OIL STAINS, TAR, RUST AND RUBBER MARKS
Unicare Existing Sealant Removal
Chemically removes the existing sealant application that discoloured or damaging surfaces. Chemically removes old existing sealant application that discolour and/or over applied.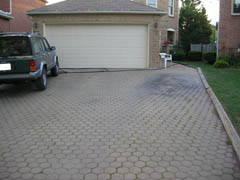 | Our Services Include: | The benefit of Unicare Products: |
| --- | --- |
| Residential Properties | Condominiums |
| Residential Housing Complexes | Enhances the original colour |
| Shopping Centers | Makes cleaning easier |
| Condominiums | It penetrates deeply for maximum durability |
| Hotel Properties | Will not peel or discolour |
| Parking Lots | It resists weathering |
| Offices | It prevents premature aging |
| Industrial Properties | It prevents growth of mold and mildew |
Unicare Oil and Dirt Remover
The most effective product available for removing oil spots from paving stones and concrete, Unicare Cleaner #1 dissolves, dislodges, and encapsulates oil to ensure thorough cleaning without leaving any oil film after rising.
Unicare Paint, Tar and Rubber Remover
Thoroughly dissolves paint, tar or bitumen, rubber and chewing gum from paving stones, concrete and masonry.
Spring Clean Up
We remove all the leaves and dirt from the pavers, flagstone or stamped concrete with a commercial blower and then power wash to remove the winter blahs.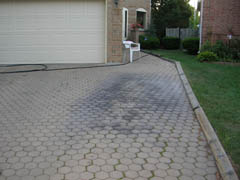 416-882-9683 | 905-269-3077
info@westhilllandscaping.com
A division of 662063 Ontario Inc
Serving Scarborough, Durham, Clarington, Northumberland, Kawartha Region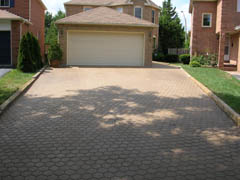 Joint Treatment
We remove weeds and moss growth from your pavers joints and apply Unicare special mix of grade sand specifically formulated for achieving optimum lock-ups of the pavers. It bonds, seals and prevents joint/sands washouts, erosions, weed and ants.
Unicare Efflorescence Remover
Specially formulated to dissolve efflorescence (whitish salt deposit) and remove ground-in dirt on paving stones and concrete, without discolouring or damaging surfaces. It cleans evenly, and enables the sealant to better penetrate the material to be treated.
Interlocking Repairs
We remove the existing sink pavers and apply sufficient bedding and re-grade the area and re-install the existing pavers.
Installation
We install new pavers and retaining walls and flagstone.
West-Hill Landscaping, succeeds with our people, experience, our workmanship, reasonable rates, our products and our warranty.